Here I present you the top 6 small yet very delicious food corners around Dehradun. The uniqueness about these places are that they are not only best in taste but very light to your pockets.
Angeethi, Nehru Colony Dehradun
Tandoori Momos to die for!! The place has been shown to me by one of my office friend. I wonder how could I miss such a hidden gem that too when its just 1.5 km from my house?
We had paneer masala tandoori momos and it tasted heavenly delicious. The full plate has 7 big pieces of tandoor momos accompanied with marinaded onion salad and two types of chutneys- red & green. The smokey flavor will give you an imagination if you are feasting upon a big chunk of tandoori chicken.
At Angeethi, you will get momos with all range of fillings from veg masala, paneer masala to Chicken & cheese momos. The restro may be lost among most of the big & small joints located at busy high profile areas of Rajpur-Ghantaghar. But it is absolutely popular for the ones residing nearby places- Dharampur-Nehru Colony. I will recommend these Tandoori momos if you are a big Momos freak.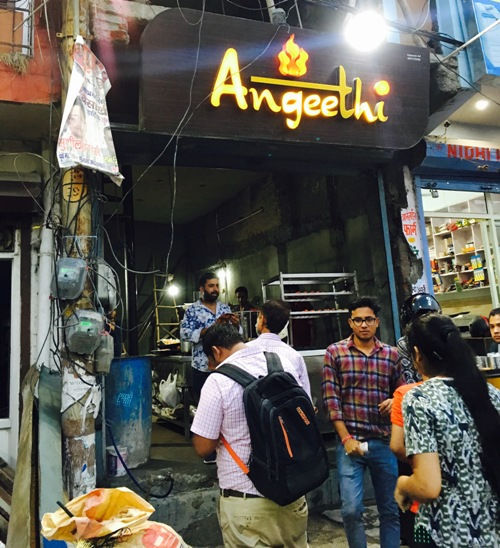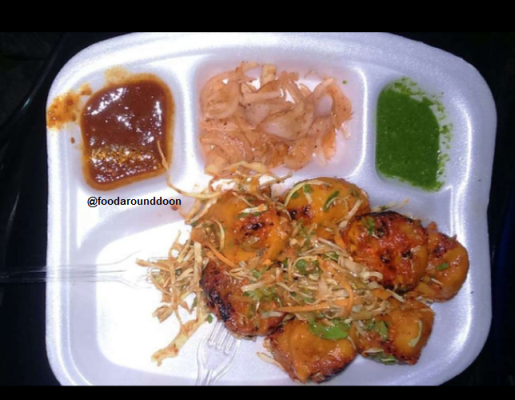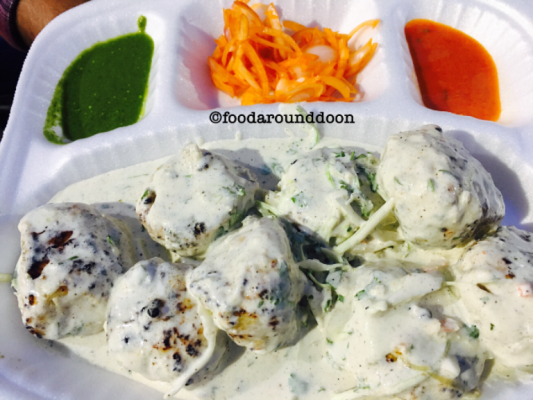 The Shawarma King, Nehru Colony Dehradun
Looking to enjoy Labanese food around Doon? Well you must then visit this new food joint "The Shawarma King" in Dehradun that serves amazing Labanese food platters full of Whole grains, vegetables, fresh chicken, olive oil, Chickpeas, cucumber, red cabbage, bell peppers and parsley.
Located at Nehru Colony area (the Him palace Hotel Road), this small eatery joint can relish your taste buds with their great Labanese food that too at very cheap prices of as low as Rs 30.
What I'll recommend you to try? Their chicken shwarma Roll is a must try and so as their chicken satay platter- tender & juicy chicken with perfect blend of spices & healthy cucumber, chickpea, red cabbage salad aside. Also do try their Veg Tabouli Salad that has a lot of veggies, mayo, olive oil & oat meal- Very nutritious & tasty. Also loved their Mota BBQ Parantha that has a crunchy wrap outside and juicy barbequed chicken patty inside.
Give it a try asap & I bet The Shawarma King will definitely make you a fan of Lebanese cuisine!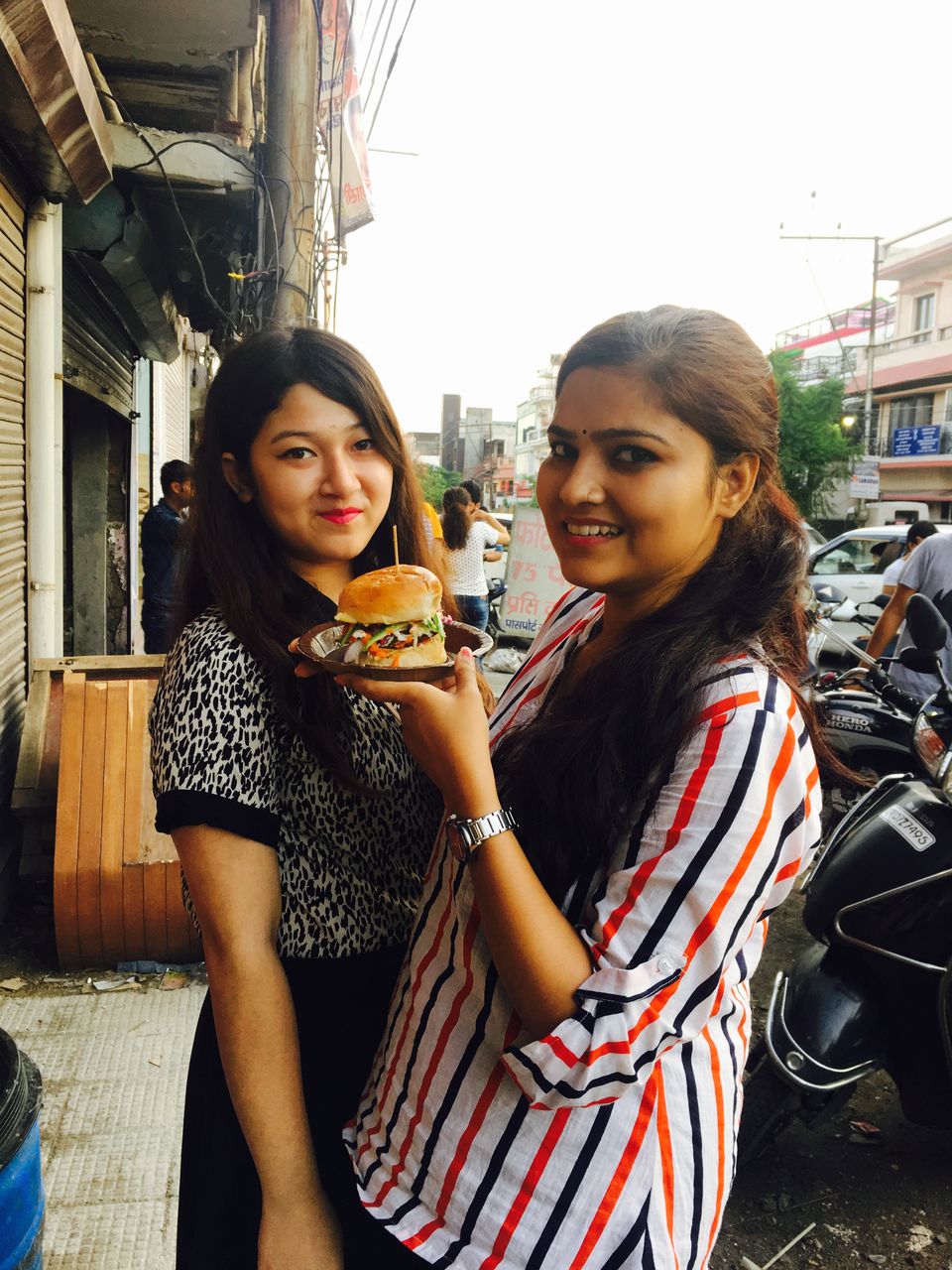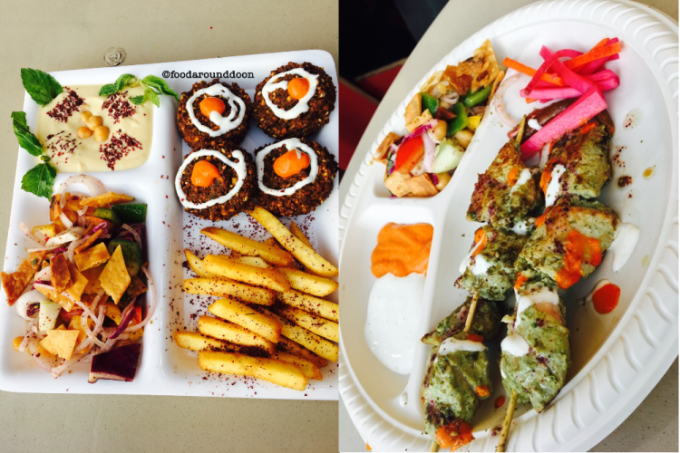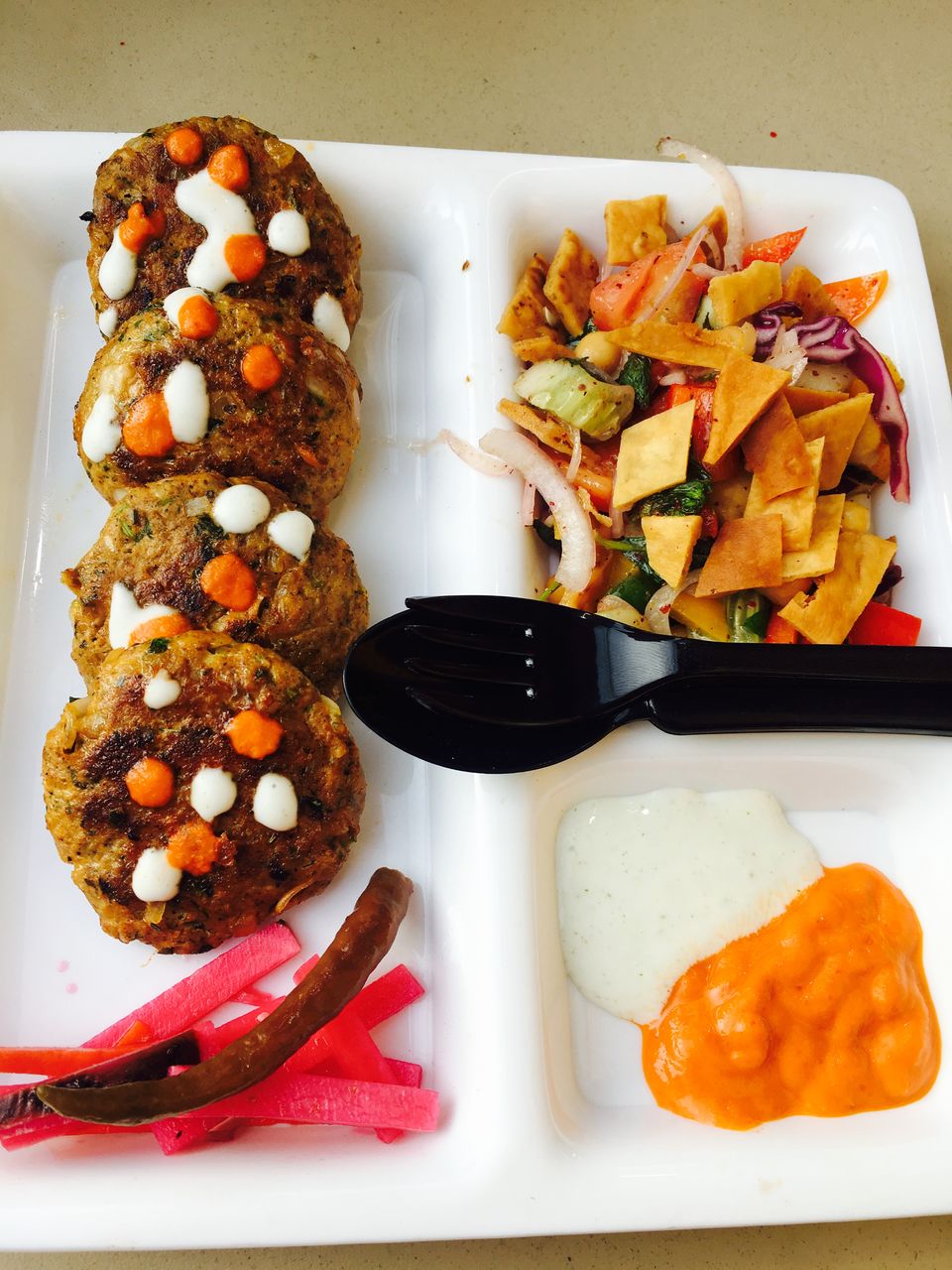 Only Veg, Raipur Chauk Dehradun
There are numerous shops that offers lip smacking 'Non Veg' Momos in the town. But finding best 'Veg' momos options around the city is a thing you may find difficult. Well not anymore! There is a small momos joint at Raipur Chauk that has just 'Veg momos' on their menu. The shop opens in the evening around 5 pm and due to heavy rush & demand they are able to sell up all of their momos at 7 pm only. If by chance, you are late, you'll have to go bare handed as the shop close down after 7 pm.
To be true, I havn't tasted such veg momos anywhere in the city. They seems not lesser than the costlier non-veg momos.
What's there inside? Generous filling of grated veggies & nothing else.
What you'll have to pay for 1 full plate? Just 30 Rs for 6 big pieces!
So hurry up, its already 6' o clock!!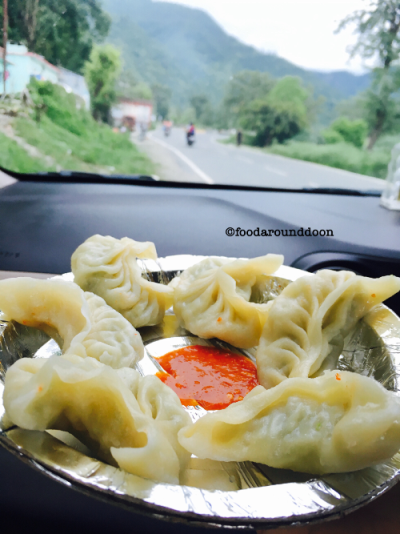 Buffet Snacks, Gandhi Park, Dehradun
Spot the best Burgers & Bread Rolls across the city at The Buffet! Buffet Snacks Shop is a small fast food joint located in Rajpur Road opposite to Gandhi Park. It is one of the oldest & famous fast food corners where you can enjoy the perfect crispy burgers, bread rolls, cold coffee & lot more at the price as low as Rs 18. No, we are not joking!
The most amazing thing is it can beat Mcdonald's burgers. The joint is also famous for its awesome shakes especially milkshakes & banana shakes.
The only problem you can face here is- A pretty huge rush & waiting time. Also there is no sitting place. So take away option can be pretty good.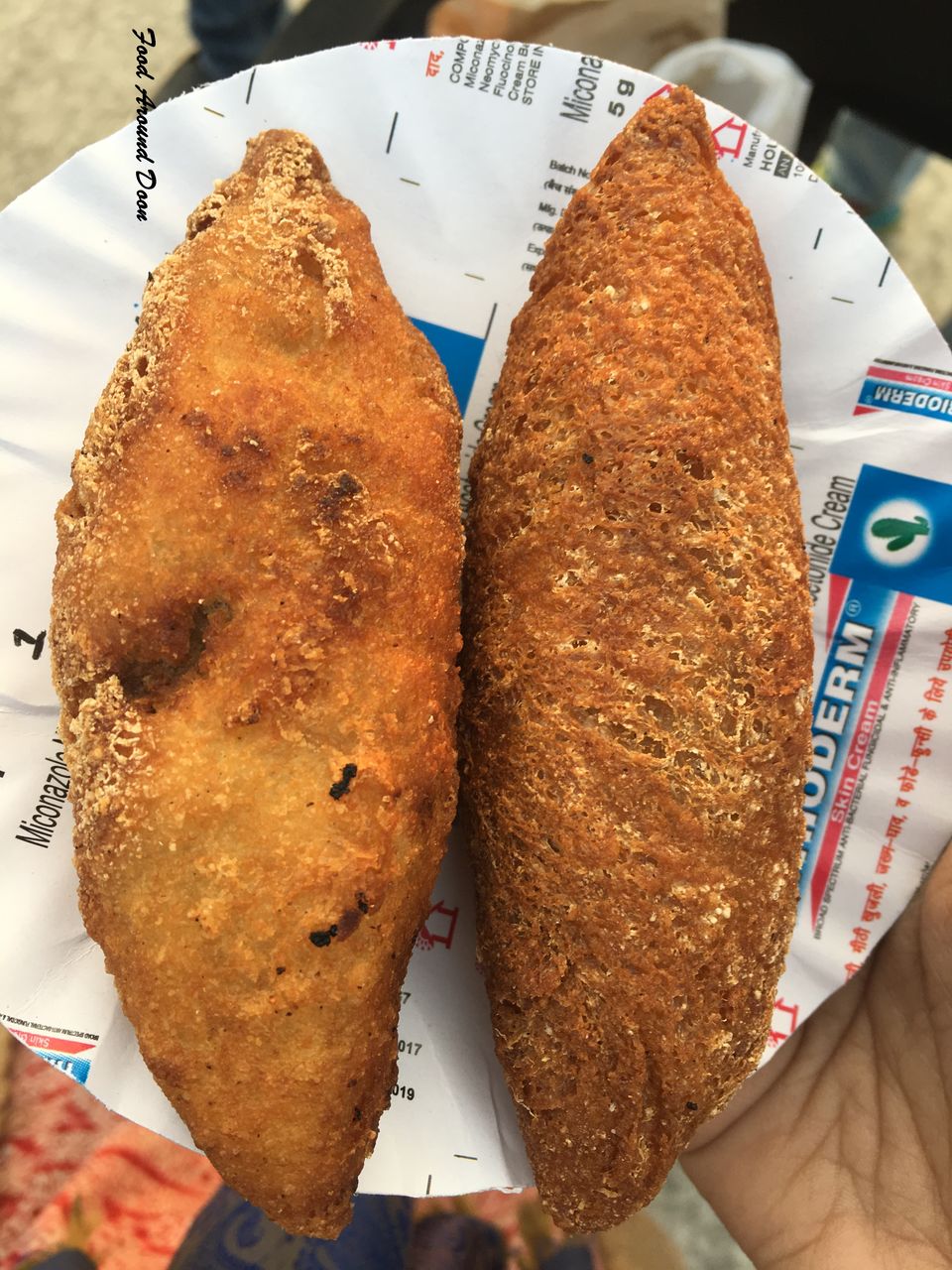 Singh Soup Bar, Silver City, Dehradun
Craving for some simmering hot chicken soup in the town? Then head towards Singh Soup Bar near Silver city, Dehradun. The place once a small food truck is now renovated to a big spacious lawn cum food joint. The chicken momos & chicken soup of Singh Soup Bar is a big hit. A regular disposable glass of chicken soup will cost you 40 INR while a full plate of chicken momos will cost you somewhere around 70 Rs. You can spot a big rush in the evening times.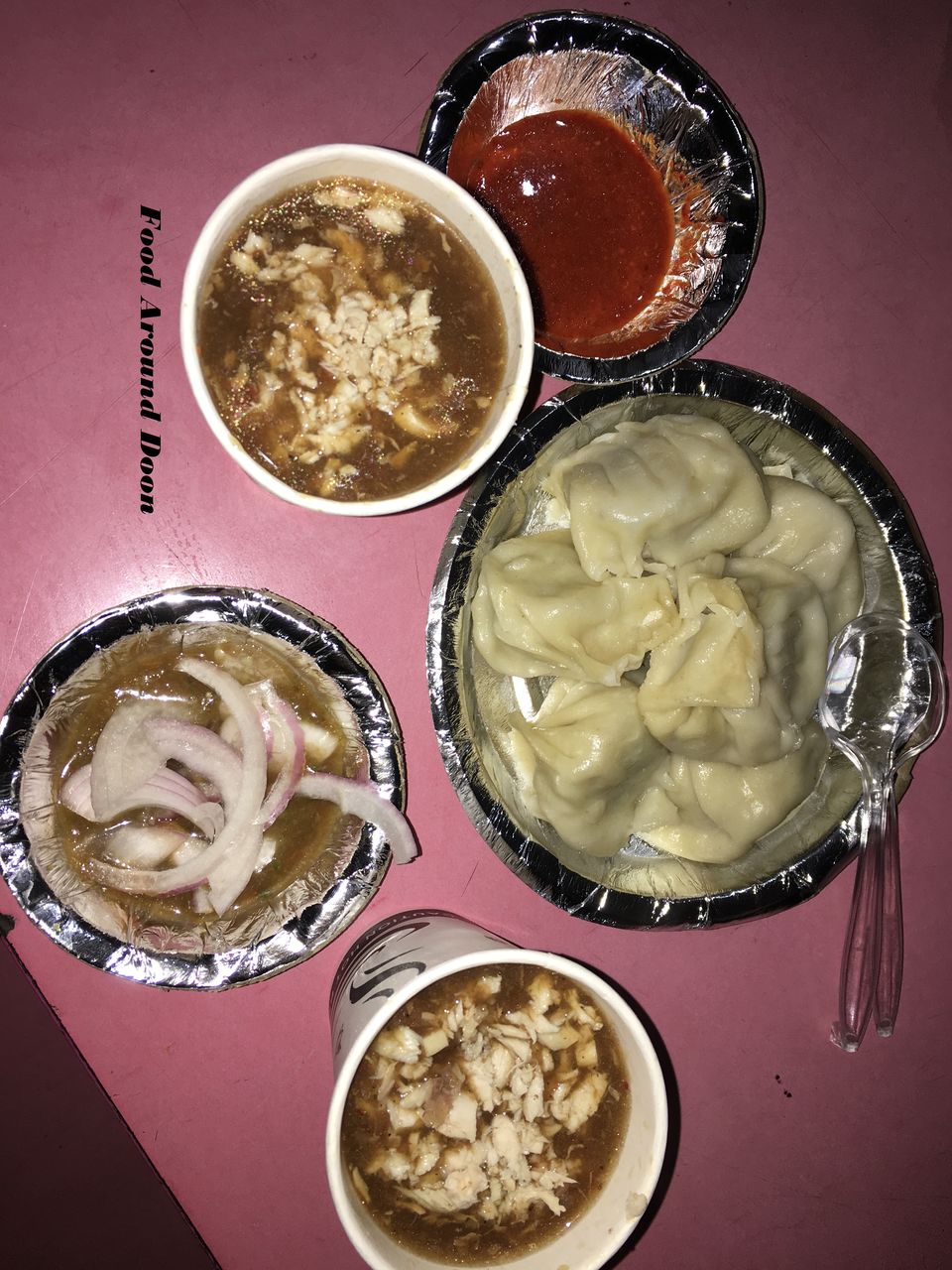 Satisfaction Fast Food, Before Bhel Chauk, Rajpur Road
Run over a small cart in the evening at around 6 O clock, satisfaction fast food will satisfy all your eve time small hunger with their mouth-watering snacks. They offer chicken momos, veg momos, veg noodles, soups, kebabs, springrolls etc. Since its located near to our office, we are a frequent visitors.
My recommendation simmering hot steamed Chicken Momos that has a generous filing of chicken inside, accompanies mayo & red/green chutney, onion aside.
How are the prices? Prices are very genuine. Just 60 Rs for full plate chicken momos (6 pieces) & Rs 20 for half veg chowmein.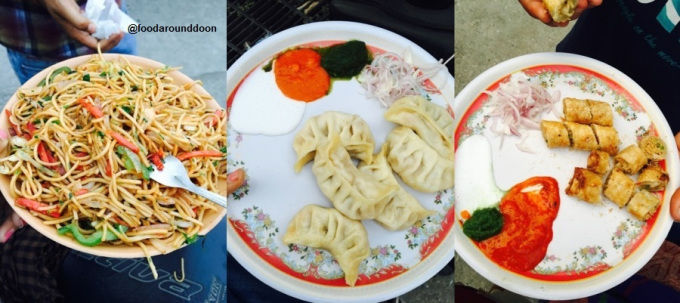 To read this full blogpost & other exciting reviews about my beautiful city Dehradun, please visit my site- https://rashmikanti.wordpress.com/
You can also follow my delicious journey on Insta- Food_Around_Doon